What to expect?
| 30-08-2019
On this new website I intend to post a new article at least once a week. If you want to know what to expect, read on quickly. (Although, of course, you could also take your time. I would even like it if you did.)
Books and blogs often tell you that you have to choose one topic that suits your target group. But the nice thing about having my own site, is that there's nothing I
have
to do. And so I'm going to write about various topics. To keep it somewhat surveyable (also for myself), I will at first limit myself to three categories:
Cars
,
Visuals arts
en
Linguistics
.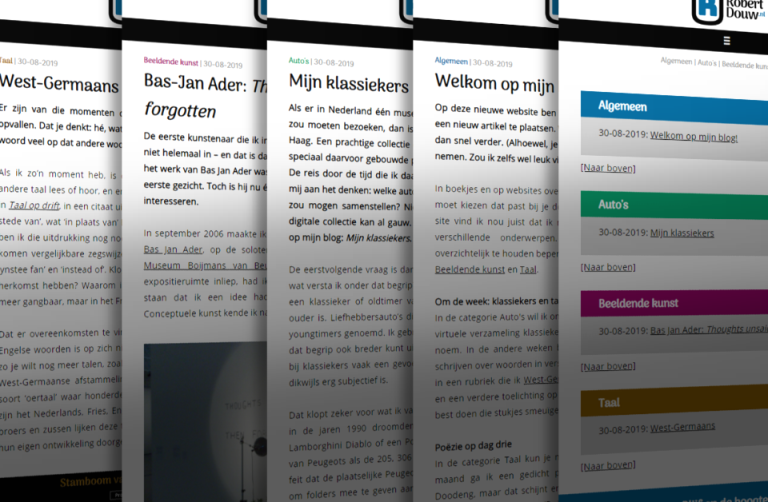 An overview of the different categories (in Dutch)
Every other week: classics and language family
In the
Cars
category, I want to add a model to a virtual collection of classics every other week, in a section that I call
My classics
. In the other weeks I intend to write in the
Linguistics
category about words in different languages ​​and their origin, in a section that I call
West Germanic
. Follow the links in the previous sentences for a preview and further explanation. I'm going to do my best to make those pieces more enjoyable than this paragraph...
Poetry on day three
There's more to expect in the
Linguistics
category: on the third of every month I will publish a poem that I wrote myself. Really scary, but that seems to be a part of making your own work public. Under the name 'Poetry on day three', I present a poem once a month. Without further explanation or justification or translation. Is my work that good? I really don't know, so decide for yourself;)
Visual arts
A few times a year, without a fixed rhythm, I also want to write about visual artworks that particularly appeal to me. For example, in the first contribution to this category I will discuss the work
Thoughts unsaid, then forgotten
by Bas Jan Ader.
Stay informed!
Does the above appeal to you? Then you can of course regularly type
robertdouw.nl
in your browser or add my site to your favorites. If you prefer a reminder every time I add a page, you can follow me on Twitter or Instagram. To do this, click on one of the links in the menu (click on the 'hamburger' at the top left of the page). Whatever your choice, I would like to see you here again soon!