MY CLASSICS
| 30-08-2019
If there's one museum in the Netherlands every car enthusiast should visit, it's the Louwman Museum in The Hague. A beautiful collection that really comes into its own in the purpose-built building, which will certainly pass inspection. The journey through the time I made there a while ago, made me think: which cars would I choose if I could assemble my own collection? Not that I would really do that, but a digital collection is easily done. That's how I came up with the idea for this section on my blog: My classics.
The next question is of course: what are my classics? And what do I understand by that concept? When it comes to cars, a classic or old-timer often means a model that is 25 years or older. Enthusiasts cars that are not that old are sometimes referred to as 'young-timers' in Dutch. However, I use the term classics, because you that term can also be explained more broadly. The Dutch
Wikipedia
rightly mentions that a sense of nostalgia often plays a part with classics, and that it is often very subjective what's called a classic and what isn't.
That's certainly true for what I'm planning for this blog. Where many in the 1990s dreamed of cars like a Ferrari F40, a Lamborghini Diablo or a Porsche 911, pictures of Peugeots like the 205, 306 and 405 were taped to the doors of my cupboard. That had a lot to do with the fact that the local Peugeot seller had enough long-term vision to give leaflets to boys like me, but apart from that, my preference went early on to the kind of cars I saw in the streets in our village, with a great liking for everything that was originally French and Italian.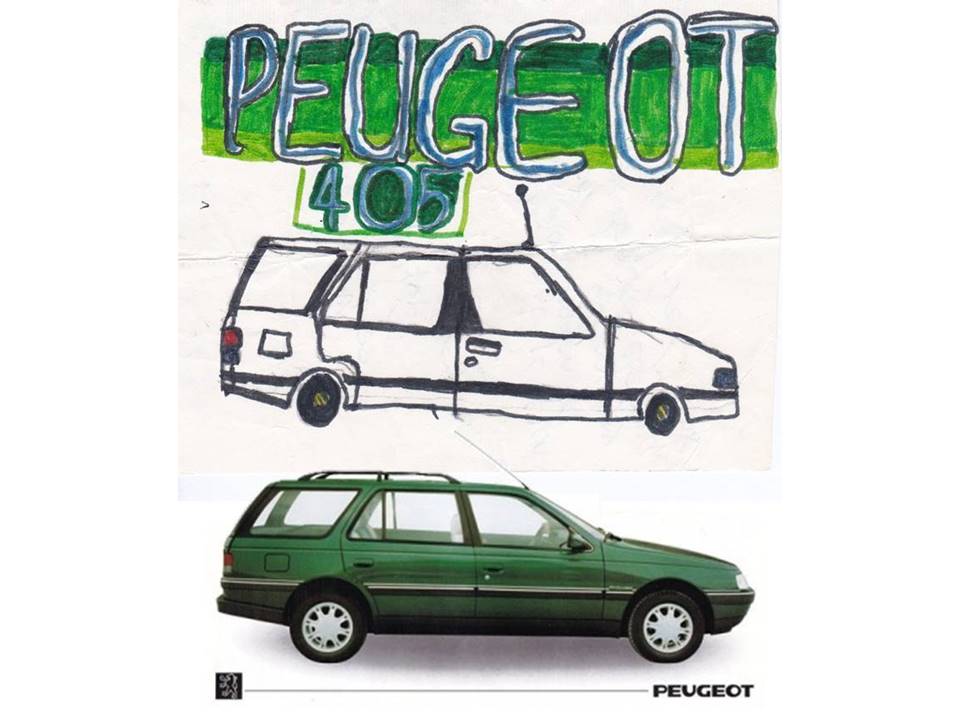 My children's drawing of a Peugeot 405 Break with a picture of that model
It seems that as a toddler I already recognized that someone had the same car as my grandfather, but as far as I can remember, my interest in cars only really started when I was about eight years old. What I know for sure is that around that time I was copying a Peugeot 405 Break while working 'after model': I walked around the car outside and observed the lines and proportions to be able to copy it in the house. That must have been just about the time that I got an eye for car designs.
In 1992 I started my own car brand in my imagination, for which I regularly designed a new model. I used existing models as a starting point; if I now see my old drawings, with some of them I can easily name the cars that influenced those designs. There are all kinds of memories attached to that, which in turn influence my choices for this blog. So nostalgia, and very subjective. Hence the section title:
my
classics.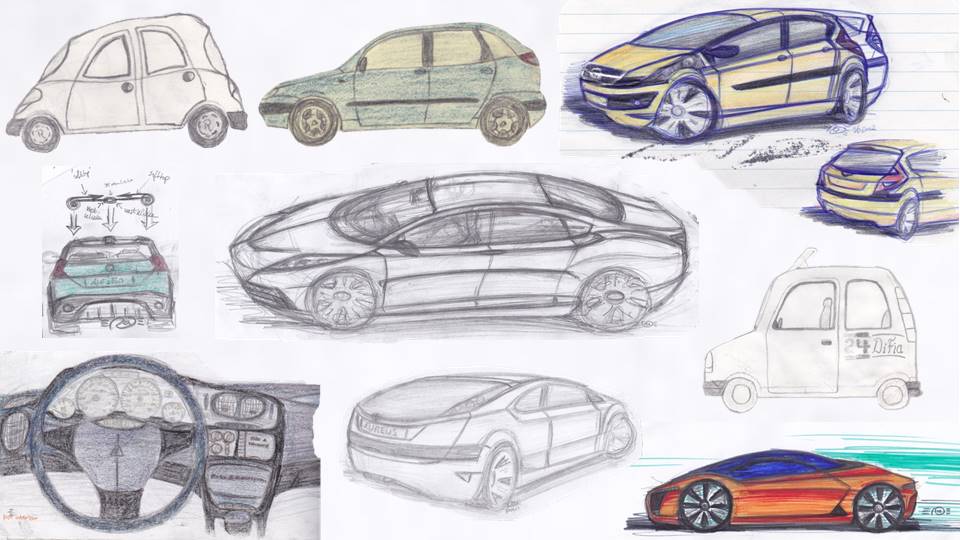 Car designs (1994-2005)
To give you a bit of an idea of what to expect on this blog in the field of cars in the near future, I have illustrated this article with a number of drawings I made as a child. With the Peugeot 405 Break it is clear, but with the rest I like to challenge you to guess which cars have inspired me. Whether or not you guessed correctly will become clear in the coming period, if I add a classic to my 'collection' every other week, starting with my first own car.
MY CLASSICS
In the My classics section, I add a model to my digital collection of classics every other week. For that, I select cars whose design appeals to me or evokes memories. So nostalgia, and very subjective. Hence the section title: my classics.
In the next episode: A sympathetic little French diesel car...